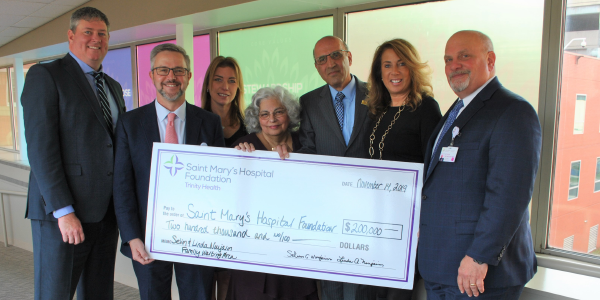 In 2017, a tragic accident nearly took Selim Noujaim's life. He was rushed to Saint Mary's Hospital where a team of physicians, nurses, and other professionals, headed by Dr. Alan Waitze, cared for him for 11 days.
Now, just over two years later, Selim and Linda have a renewed sense of purpose to help the community that saved Selim's life. Through a blended gift, which is a combination of a current gift and a testamentary gift, the Noujaims have been able to achieve their philanthropic goals of supporting the hospital that they love. Their gift will help transform the OR waiting room…a place where Linda and her loved ones waited anxiously – and uncomfortably – during those difficult days. The renovated space will be named the Selim and Linda Noujaim Family Waiting Area.
"Throughout the years, the Saint Mary's staff has cared for our family through good times and bad. It is there where our three daughters were born and where my mom and Linda's mom were also treated. In that same waiting room, Linda has spent hours during many of our daughter Bridget's surgeries," said Selim. "Therefore, it is a moral obligation that our family reciprocate to the devoted staff who serve our community with the utmost competence. We owe them much gratitude," Selim continued.
---