Saint Mary's Hospital Foundation Board Appointments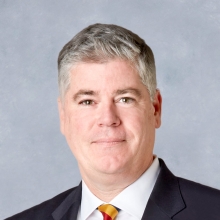 Mike O'Connor, Esq., is the Regional President and Director of Corporate Real Estate at Webster Bank for the Greater Waterbury, Connecticut market. He joined Webster Bank in March of 2012 and is responsible for all aspects of the bank's corporate real estate portfolio consisting of 180 properties and approximately 1.3 million square feet. Mike earned his bachelor's degree at High Point College and his JD at Ohio Northern University.
Mike is a retired Army officer, having served in the Reserves, National Guard and Active Army. He has served in over 10 countries and earned a bronze star for action while serving in Afghanistan with the 3rd Battalion 3rd Special Forces Group, Airborne.
On his appointment as a new Foundation Board member, Mike stated, "Saint Mary's has and continues to be a cornerstone in our community. I am proud to be appointed to the Foundation Board and support their efforts creating better high-quality health care options for those who live and work in the greater Waterbury area."
Click here to read about more members.
---